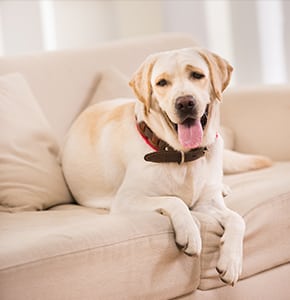 Vet House Calls in Rensselaer, IN & Surrounding Areas
If our name doesn't give it away, PetVets on the Go is 100% mobile! That means we bring all of our veterinary services directly to you and your pet. We offer house calls in and around the Rensselaer area (visit our Areas We Service page for details). So whether you're unable to drive to a stationary veterinary hospital, or your pet just doesn't do well during car rides, this service is for you. As a mobile veterinary practice, our house call veterinary service provides the following benefits for you and your pet:
Your dog/cat can receive high-quality care by an experienced veterinarian in the comfort of your home

Your pet can be more comfortable during the veterinary visit

You can save time that you would otherwise have to spend on the commute to a veterinary facility

You as the pet owner can have a more relaxed time (since a pet's anxiety can often cause anxiety for the owner)

You and your four-legged friend can receive more personalized care and attention
We make your pet's health and safety a #1 priority with every service we provide, whether it's in your home or in our mobile unit. Our goal is to not only provide your pet with exceptional veterinary care, but to create an experience that is as stress-free as possible.
Available House Call Veterinary Services
PetVets on the Go provides many of the same services you'd expect to find at a brick-and-mortar veterinary practice, including:
Give us a call today at 219-869-0097 to request a house call appointment. Please keep in mind that when scheduling house calls, it takes a bit more time to arrange. We try to schedule house calls for when we are in a particular area, so we ask that our clients be mindful of our capabilities. Call sooner rather than later to make sure you can find a time that is convenient for both you and us! We'll see you—and your pet—soon!