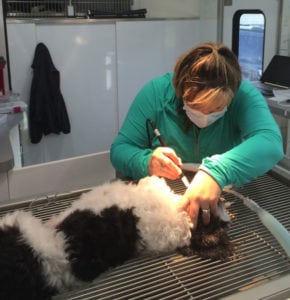 Dog and Cat Teeth Cleaning in Rensselaer, IN and Surrounding Areas
Dogs and cats are like people in many ways, including their need for regular dog and cat teeth cleaning. If a pet's mouth is left neglected, it can result in far worse than just bad breath. It can actually lead to gum disease (preceded by tartar buildup, etc.), just like it can in people. Of course, nobody wants that for their pet. Here at PetVets on the Go, we take a proactive approach to dental care because we want to help your companion live a long, happy, healthy life. We offer all of the same dental services that you'd expect from a stationary animal hospital to keep your pet's mouth happy and healthy, including:
Oral exam
Pre-anesthetic blood work
Anesthesia
Ultrasonic teeth scaling (above and below the gum line)
Teeth polishing
Extractions
About Your Dog and Cat's Teeth Cleaning Appointment
We make your pet's safety and comfort our #1 priority with every service we provide. That's why we recommend blood work before administering anesthesia. The results of a blood test allow us to determine if your pet is healthy enough for the planned teeth cleaning procedure. We also take extra measures to ensure comfort throughout the dental procedure, giving your companion the same level of care we'd want our own pet to receive. Just as we would for any other procedure that involves anesthesia, we monitor your pet's vital signs (pulse, respiration, etc.) throughout the entire teeth cleaning process, including recovery.
Signs of Pet Gum Disease
When caring for your pet, it's important to be aware of what's considered "normal" and what isn't, in terms of her dental health. The following is a list of signs that are commonly associated with gum disease:
Chronic bad breath
Loose teeth
Red or swollen gums
Brown or yellow teeth
Difficulty eating
If you've noticed any of these signs, it's time to schedule a dog or cat teeth cleaning appointment in the Rensselaer, Monticello, Wheatfield or surrounding areas with PetVets on the Go. Give us a call today at 219-869-0097!