Our Story: Dr. Dixon, DVM in Rennselaer, IN
Imagine living in an area where there are very few options for veterinary care, or where there are no options nearby. This is the case for thousands of pet owners, and sadly, many of them don't bring their pets to the vet at all because of it. It was this exact scenario that led to the founding of our mobile practice. PetVets on the Go was established in the fall of 2016 by Dr. Lisa Dixon who saw a growing need for veterinary care in Indiana, and heeded the call.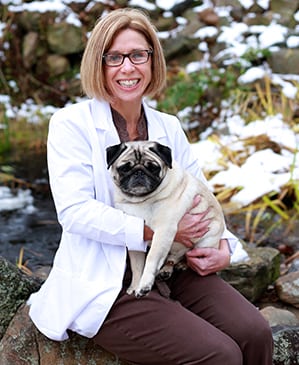 Meet Dr. Dixon, DVM
Originally from Logansport, IN, Dr. Dixon earned her DVM from Purdue School of Veterinary Medicine in 1996. She lives in Rensselaer and worked as an associate veterinary in a small animal practice for more than 20 years. Her husband, Dr. Dave Dixon, is also veterinarian at a large animal practice called StockVets, which specializes in livestock and advanced reproductive procedures. She regularly accompanied him on his house calls and enjoyed the experience, which became instrumental in her decision to establish a mobile practice. She loved being able to get to know people and their animals in a different, more personal way.
With her desire to provide high-quality care to her own patients in the comfort of their homes, Dr. Dixon established PetVets on the Go as a mobile practice. PetVets on the Go provides a variety of veterinary services to dogs and cats in Rensselaer, DeMotte, Francesville, Monticello, Logansport, Royal Center, and surrounding areas.
Dr. Dixon and her husband are the proud parents of two boys named Luke and Eli and a girl named Libby. They also have a pug named Peter and a puggle named Patricia (who really adopted the Dixon family). Dr. Dixon and her family raises and shows Hereford cattle, and she considers their show calves pets as part of the family as well! Her spare time is full of her children's activities and sports events. She also attends Grace Fellowship Church in DeMotte, where she serves in the Grace Kids Ministry. She also volunteers as a CASA (court appointed special advocate) for abused and neglected children in Jasper and Newton counties.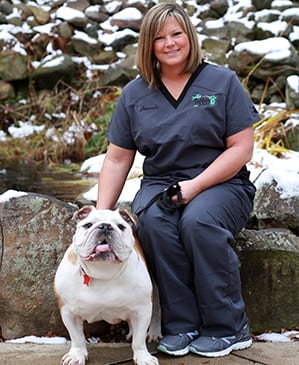 Meet Amanda
Dr. Dixon offers her mobile services with the help of Amanda, who has years of experience as a veterinary assistant and office manager in a small animal hospital. She studied at Ivy Tech community college and resides in Monticello. Amanda is very excited to be part of PetVets on the Go and shares Dr. Dixon's goal of making veterinary care as convenient as possible for pet owners. She loves exploring new things, being on the open road, and meeting new people. She also enjoys working with animals, meeting their owners, and hearing their stories about their beloved pets.
Amanda and her husband, Chuck, have two adult sons (Chase and Seth). She also has an English bulldog named Cubby, a boxer/bulldog mix named Mercedes, and two cats named Jack & Tyrone. When she's not working, she likes to go camping, travel to exotic destinations, and spend time with family and friends.